Whether you want to reflect the values of your customers, promote sustainability within your business or you've spotted a major opportunity for growth. Find out more about our biodegradable, recycled and eco-friendly range of labelling materials.
The term biodegradable is talked about often in the media as a sustainable material alternative, but what does it actually mean? Biodegradable labels and stickers are made from white, wood-free, elemental chlorine free, non-coated paper with a permanent acrylic adhesive which conforms to the standard EN13432. Biodegradable means materials will deteriorate, fragment and then assimilate. Basically meaning the material will break down and be absorbed back into the earth. Depending on the material this will take and it's anything from a day to millions of years, therefore, any label is technically biodegradable. Eco-friendly and sustainable labels are made from materials that have been recycled, made from bio matter or are compostable either at home or at an industrial waste facility.
Why should you make the switch to eco-friendly labels?
The recent ban on single use plastic, due for enforcement April 2020, has prompted many businesses to review their effect on the environment both locally and globally. Currently this ban only applies to plastic bags, cotton buds, straws and drinks stirrers. UK and EU government is getting more involved in commercial waste, we may see more legislation passed in the near future pushing businesses to invest in locally and sustainably sourced packing materials and labelling supplies.
Recent studies conducted from 2013 to 2019 found that the majority of consumers now factor in the environmental impact of their purchases and actively look for sustainable logos on products and packaging. Switching to compostable or recycled labels on either products or secondary packaging allows use of the biodegradable, recycled or recyclable and eco-friendly logos. You may have noticed a surge in vegan and plant based products from companies in the food industry, there is massive demand from customers for ethically sourced, sustainable and kind to nature products. Even large supermarket chains such as Tesco, Asda & Sainsburys have started to reduce their packaging waste on food items to appeal to the eco-conscious buyer. People are also likely to retain buying relationships with companies that align with their own green corporate agenda or personal beliefs.
The versatility and variety of sustainable label materials ensures any labelling requirement is met, and we can also offer price support to ensure you are supplied the best labelling materials at the best possible price.
Why do consumers care so much about sustainable packaging and labelling? News, media and environmental campaigners have brought to light the serious effect single use plastics and non-recyclable materials are having on our planet. Most people want to do their bit to help reduce the amount of plastic waste in our oceans and the damaging effects caused by non-recyclable waste. They want to make informed purchases from trusted ethical suppliers.
We offer an extensive selection of eco-friendly sustainable label and tag materials for any application.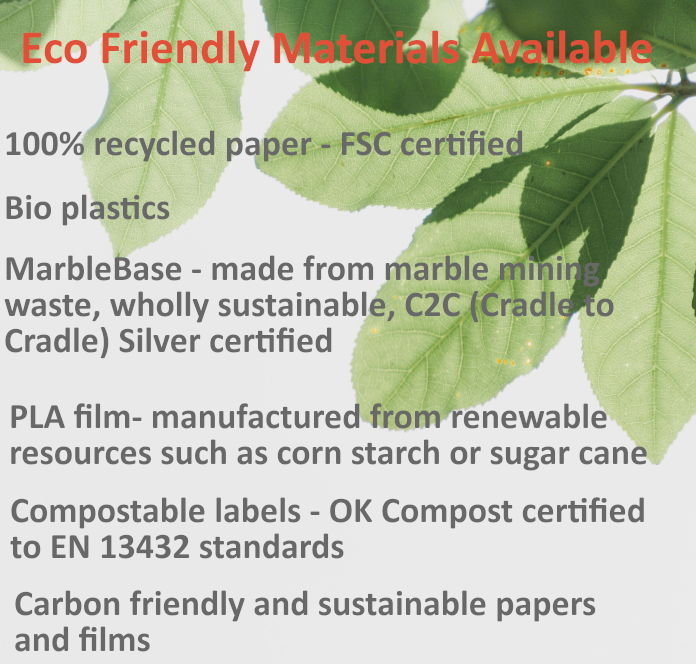 Our compostable labelling materials are British Standard EN 13432 certified, which means they meet the following criteria:
The material must disintegrate within test composting conditions within 12 weeks
Within 6 months the material must generate a required amount of carbon dioxide
This process must not have a negative effect on the composting process
We stock a range of BPA free direct thermal (DT) labels. BPA (Bisphenol A) was banned on 2nd January 2020 both in the UK and EU. BPA was the chemical used to give the print on direct thermal labels. There had been health concerns over this chemical for a while, mainly around the safety of reusable plastic bottles. The amount of BPA found in DT labels was significantly less than plastic bottles but we welcome the ban with a view to a more environmentally safe future.
The durability of biodegradable, compostable labels has been vastly improved with the introduction of bioplastics. Made from agricultural by-products and waste are a great alternative to standard petroleum-based PP (polypropylene) and PE (polyethylene) labels. Our PLA film is suitable for use for many labelling requirements such as food & beverages, chemical, logistics, shipping, etc. PLA is a polylactic acid, this is made from renewable, non-environmentally harmful sources such as corn starch, tapioca and sugar cane. They are highly resistant to chemicals and oils.
If you are using an inkjet label printer such as Epson, Primera, Afinia etc. We can also supply inkjet printable eco-friendly labels in materials such as paper, card and a new bespoke cotton feel label.
Not only do we have knowledgeable staff, experts on everything label related happy to help you switch suppliers or supplies over to an eco-friendly option, we also have a some of the best stocks of label materials at highly competitive pricing. We can manufacture labels any size, shape, colour and for most printers. We can also supply a full green solution where we print the labels for you and supply them expertly finished, keeping your carbon footprint for labels as low as possible in the process.
Frequently Asked Questions
Are stickers and labels eco friendly? Yes, most labels and stickers are made from fully or partially recycled paper and BPA free materials.
Are paper stickers compostable? Compostable is a material that will breakdown fairly quickly. All labels are biodegradable but to be classed as compostable by British Standard they need to degrade quickly. We stock a range of compostable paper labels and compostable plastic labels.
Is vinyl eco friendly? Viewed by many as one of the most harmful plastics, we would not class this as a green material. Our alternative to vinyl would be a PLA plastic made from plant and bio materials.
Are shipping labels compostable? Most shipping labels are direct thermal (DT) and not compostable. If you would like to switch to a compostable shipping label we have a BS EN13432 material perfect for an eco friendly shipping label. DT labels also contain BPA. BPA has now been banned in labels so its best to check if your current labels still contain BPA, if they do please get in touch and we can swap you over to a safer BPA free shipping label.
For more information eco friendly label options email us at info@labelmarket.co.uk or call us on 0800 169 1980
Get a quote