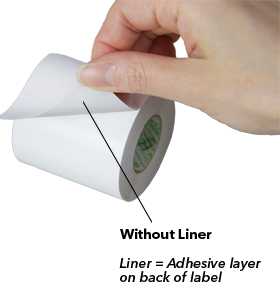 Say goodbye to lined labels and hello to streamlined linerless labels – your new secret weapon in the quest for excellent labels that don't cost the earth!
Linerless labels are a great solution to wasteful and pricey lined label stock. These innovative labels use a semi-adhesive label format and a special coating on the upside of the label that removes the need for backing paper but prevents adhesion of the label on the reel. Not convinced you need to make the change? Read on for our guide to the many benefits of linerless labels.
They'll help you do your part to save the planet
No backing paper means up to 40% less wastage per label reel! The reels are significantly lighter than lined labels so transportation and storage is also more eco-friendly.
They'll save you time
The lack of liner allows manufacturers to pack way more labels onto each reel, reducing print downtime and the staff time that it takes to change label reels. With fewer reel changes, less waste to dispose of, and fast application speeds, linerless labels are an excellent way to maximise your print operation whilst minimising staff time spent on non-profitable activities.
They'll save you money
Not only will they save you staff time, they'll save you actual money. More labels on fewer reels will mean reduced transportation, storage, waste disposal, and staff costs.
You'll get great print results
We stock Sato and Zebra linerless labels, premium brands that guarantee excellent print results every time when used with a linerless label printer. It's tempting to assume that a label that saves you time, money AND helps save the planet must be inferior to standard lined labels. Simply. Not. True.
They're Versatile
Because of their many benefits linerless labels are quickly increasing in popularity, and these versatile labels can be used in a variety of settings including retail, healthcare, logistics, and various mobile label applications.
If these five excellent reasons for buying linerless labels has got you interested, request a quote below and take full advantage of our competitive prices, excellent range of linerless labels, great customer service, and easy ordering and delivery processes.
Alternatively, you can get in touch with us on 0800 169 1980 or info@labelmarket.co.uk
Get a quote